Without question, anal sex is one of the most pleasurable types of sex. However, depending on how you approach it, it can bring about certain unpalatable issues. In this post we shall shed light on one of the most important things that need to be done in order to ensure an incident free and pleasurable anal play.
When it comes to the issue of anal sex, one of the commonest problems couples often encounter is the 'embarrassing' issue of feces coming from the anus and rectum of the receiving partner and marring the whole experience. Can you imagine how awkward it can be to penetrate your partner's rectum only to pull out and discover that your penis or the toy used in penetration is smeared with feces? Unless you are one who gains sexual arousal from fecal matter (coprophilia/scatophilia), your anal sex adventure would definitely be much better if feces weren't in the picture! More often than not, an improperly cleaned ass is the root cause of this awkward happening. If this is the case, it is therefore obvious that the problem can be mitigated or completely avoided if the partner being penetrated cleans their anus properly. But how is this done? The answer is anal (rectal) douching.
Below we have a comprehensive step by step guide on how to go about cleaning/douching your rectum and getting it ready for anal play. So without further ado, let's delve into the steps involved to achieve anal hygiene for a memorable anal sex experience devoid of any mess.
Anal douching Steps
Get yourself a squeeze bottle that can hold a substantial amount of water. Also, the bottle should be one that allows you to hold it and squeeze it (to release the water in it) with just one hand.
Fill the bottle with clean water that is neither too cold nor too hot. The water should be of room temperature or warm.
Go into the bathroom and strip completely naked.
While standing, stick up your ass and place the nozzle of the bottle gently into your anus. You don't need to screw the entire tip into your hole. To make the insertion of the bottle's nozzle into your rectum easier and more comfortable, you can smear some amount of lube on it. Some good examples of lubes are the following water based lubricants: Shibari Premium Personal Lubricant and Passion Lubes.
Squeeze the bottle long and hard to dispense some of the water in the bottle as far up your back door as possible until you feel it deep in your rectum.
Pull the tip of the bottle out of your ass and try to hold the water in your anus for as long as possible. If you can hold it in for as long as 20 seconds, then that's perfect!
Move to the toilet bowl, sit on it and purge the water into it as though you are passing stool.
Repeat steps 4, 5, 6, and 7 multiple times. The first few times, you'd notice that the water coming out from your anus would be dirty. The dirt in the water is basically poop.
Keep repeating the aforementioned steps again and again until the water you purge out of your anus is no longer dirty. When you notice the water you are purging from your ass is clear (colorless), it means you have thoroughly cleaned out your anus.
Wait for a couple of minutes before proceeding to thoroughly wash your anus and the entire anal region with water and soap. You can go ahead and take a shower if you want.
And that's all! Now your anus is now properly cleaned and ready for action! Following the steps above to the letter will not only ensure that your ass free of poop residual but it will also reduce your risks of experiencing any embarrassing accidents during anal play.
NOTE: Remember to have a bowel movement naturally before proceeding to clean out your anus for anal play. Pooping will clean out your system naturally. Once this is done, you can go ahead and take the steps above.
Anal Enema
Alternatively, you can purchase and use an anal enema to prepare your anus for a mess-free anal sex experience. The great thing about using a water enema kit is the fact that it is not only very easy to use but also very safe.
How to use your water enema for anal douching
If you are going to take a receptive role in anal play, follow the simple steps below to thoroughly clean out your anus with an enema:
Go to the toilet and take off all your clothes and underwear.
Fill the pouch of the enema with clean water. We recommend you use water that is of room temperature.
Apply a decent amount of anal lube (any of the lubricants mentioned above would be fine) to the enema's tip/nozzle before gently inserting it into your rectum. The lube allows for a smooth entry into your hole.
Having inserted the nozzle of the enema into your rectum, gently squeeze the enema bulb to dispense water into you anus. After you have squeezed the bulb to dispense its water, do not instantly release the bulb. If you do that, water filled with poop can easily make its way back into the pouch and pollute the entire water in there.
Slowly pull the tip of the enema out of your rectum and hold the water in your ass for some seconds before purging all of it into the toilet bowl.
Repeat steps 4 and 5 repeatedly until the water you purge out of your anus is clear.
Take a shower or just wash your ass and the entire region with clean water and soap.
That's all there's to it! Your ass is now thoroughly cleaned and ready to be penetrated!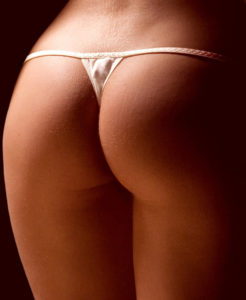 Things to take Note of
It is always a good thing to have a bowel movement and clean yourself the traditional way before using an enema to get yourself prepared for anal sex.
The cleaning of the rectum not only significantly reduces the likelihood of encountering feces during anal sex but it also has the ability to reduce bacterial transmission from the anus to other parts of the body.
Some of the bestselling anal douching products on the market for both men and women include: Cleanstream Silicone Comfort Nozzle Enema Attachment, OTBBA Enema Kit with Lubricant, and Enema Bulb, Kitypartsy Douche.
Despite being great for cleaning your ass, it is advisable not to abuse rectal douching since doing so can lead to irritation to both your intestinal lining and anus, which can easily change the natural (normal) way in which your body eliminates waste.